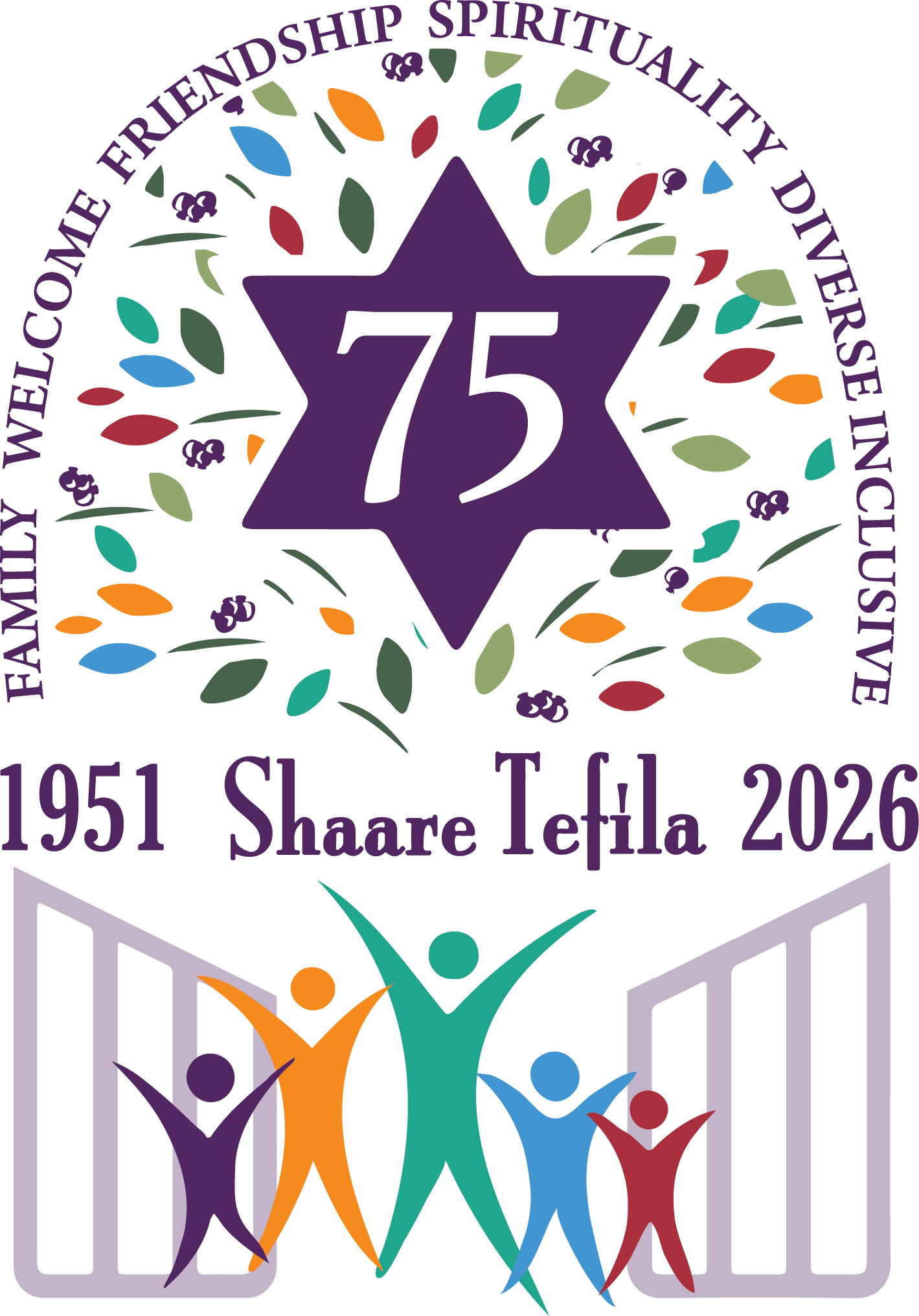 Shaare Tefila
Oct 15, 2023 - Oct 26, 2023
Explore Israel @75 with Shaare Tefila!
Led by Rabbi Jonah Layman
Explore a variety of Israel's cultures; experience Tel Aviv's trend-setting arts scene; learn from Israel's thought-leaders; encounter the Negev desert's wonders; Shabbat in the Holy City of Jerusalem

Sunday, October 15, 2023
DEPARTURE
Departure from the United States.
Overnight: In flight
Monday, October 16, 2023
ARRIVAL AND WELCOME TO ISRAEL
Note: The first day's itinerary is subject to change depending on the flight arrival.
Arrive at Ben Gurion International Airport, with assistance from a Makor Educational Journeys representative.
Walking tour of Jaffa,

one of the most ancient cities in the world, including Biblical vignettes, the role of Jaffa as gateway to the Middle East, the great return of Jews to these shores beginning in 1881, and Jaffa as a microcosm of the challenges of two peoples striving to live side-by-side.
Welcome dinner in Jaffa and introduction to the program.
Overnight: Fabric Hotel, Tel Aviv
Tuesday, October 17, 2023
THE ALT AND THE NEU OF ALTNEULAND (TEL AVIV)
Using literature, songs, newspaper clippings and photos, "meet" thinkers, writers, artists, musicians and politicians at Tel Aviv's "pantheon," the Trumpeldor Cemetery, which contains the graves of the leading figures in Israel over recent generations, including those who laid the foundations for the new Hebrew settlement in Jaffa and builders of the city of Tel Aviv.
Explore the Neve Tzedek

neighborhood, founded in 1887 to escape the crowded living quarters of Jaffa. Within a decade it became the center of Jewish Jaffa's public and cultural life; many of the neighborhood's turn-of-the-century houses can still be seen.
Lunch on own at HaTachana

, the old Jaffa railway station that has been renovated into a stylish and open, pedestrian-only complex that houses shops, restaurants, arts shows & classes, two weekly markets and lots of other events – while preserving the original design of the buildings.
Specially guided tour at the Peres Center for Peace and Innovation,

which promotes peacebuilding between Israel and its neighbors (particularly between Israelis and Palestinians) as well as between Jewish and Arab citizens of Israel, and presents the journey from the early days of the State to the Startup Nation of today and beyond.
Guided walk through the Kiryat Hamelacha

, the heart of the local art scene, a visit to galleries and exhibitions for a view of the dynamic contemporary Israeli art scene that reflects local temperament and issues alongside current trends in world art.
Dinner and evening on your own to explore Tel Aviv.
Overnight: Fabric Hotel, Tel Aviv
Wednesday, October 18, 2023
MEETING THE "OTHER"
Breakfast at the hotel and check-out.
Visit Kuchinate,

an African Refugee Women's Collective, for an opportunity to engage with members of the collective and hear from Israeli women who have dedicated themselves to bettering the lot of African asylum seeker women in south Tel Aviv.
Drive to Lod

. 

Lunch

on own in Lod
Continue to Lod Chicago Community Center.
Travel to a moshav in the Mateh Yehuda Regional Council.
Participate in a Kurdish/Moroccan/Yemenite/Indian cooking workshop

with a local woman in her home, concluding with a scrumptious self-prepared dinner.
Check in to hotel followed by an evening on your own.
Overnight: Batsheva Hotel, Jerusalem
Thursday, October 19, 2023
JEWISH SOVEREIGNTY, THEN AND NOW
Travel to the Haas Promenade,

overlooking the city for an opportunity to say a

shehecheyanu

blessing upon arrival to Israel's ancient and modern capital city, followed by an introduction to Jerusalem – 3000 years ago and today.
Descend to the City of David for a guided visit through some of the newest excavations in Jerusalem, including the dry water tunnel, the Siloam Pool and the drainage tunnel, which goes under the walls of the Old City to Robinson's Arch.
Already there is a sense that Shabbat is in the air in Machane Yehuda

, an added urgency to the shopping frenzy

.  Lunch

on own in Machane Yehuda
Proceed to Kiryat Ben-Gurion

, the seat of Israeli government and the symbol of Israeli sovereignty, including a possible meeting with a Member of Knesset.
World within a World: meeting and discussion with ultra-Orthodox Jews

in Geula or Mea Shearim
Overnight: Batsheva Hotel, Jerusalem
Friday, October 20, 2023
IR 'ATIQA – THE OLD CITY
Tour the Jewish Quarter

of the Old City with its archaeological remains that date back 3000 years to the days of the First Temple, including Biblical and Hasmonean remains in the open Cardo and the Broad Wall.  Continue to the Kotel/Western Wall for personal reflection and prayer.
Meet artists in their studios/galleries in Hutzot HaYotzer

and/or tour in the

Bezalel Crafts Market.
Lunch on own. Rest of the afternoon at leisure
Kabbalat Shabbat (options):
o   Kotel
o   Group only at a specially chosen site
o   Jerusalem synagogue
Festive Shabbat dinner

at the hotel.
Overnight: Batsheva Hotel, Jerusalem
Saturday/Shabbat, October 21, 2023
A JERUSALEM SHABBAT
Morning at leisure or time for prayer/attend a local synagogue for Shabbat morning services.
Shabbat lunch at the Fuchsberg Center
A Window on Mt. Zion:  Mount Zion

is a microcosm of Jerusalem – sacred, complex and multicultural.  While there are other spaces that are holy to Jews, Christians and Muslims, today's visit to Mount Zion will concentrate on a single building that houses King David's Tomb / the Room of the Last Supper/ Nabi Daud –sacred to Jews, Christians and Muslims.
Havdalah overlooking the Old City walls.
Dinner and evening on own.
Overnight: Batsheva Hotel, Jerusalem
Sunday, October 22, 2023
CONFLICTING NARRATIVES
Geopolitical drive en route to Bethlehem, stopping along the way for vantage points long the Seam Zone Barrier, including the Tomb of Rachel,  for a glimpse into some of the complexities of Israeli-Palestinians realities.
Enter Bethlehem for a guided visit through the city focusing on the Palestinian relationship to the land with tour educator Noor Awad, including a visit to the Church of the Nativity and the graffiti laden Bethlehem side of the Seam Zone Barrier opposite the Tomb of Rachel.
Drive to the Gush Etzion Junction and meet with the founders of the Shorashim – Roots

project,

Ali Abu Awwad

and

Shaul Judelman

, for a grassroots dialogue and activism project with Palestinians and settlers.
Dinner and evening on own.
Overnight: Batsheva Hotel, Jerusalem
Monday, October 23, 2023
DAROMA – INTO THE DESERT
Breakfast at the hotel and check-out.
Drive to the Bedouin

village of

Lakiya

for a peek into Bedouin society. Meet with women from the

Sidreh–Lakiya Weaving Initiative

to learn about the independence movement for Bedouin women, with a chance to see how the weaving is done and participate in dying some wool.
Walk along part of the Beer Sheva "ring trail"

that encircles the Be'er Sheva. It leads visitors to the various spectacular landscapes and sites around the city, such as the Negev Brigade Memorial, designed by internationally-renowned urban artist Dani Karavan.
Learn about Israeli cybersecurity at CyberSpark

–the 

Israeli Cyber Innovation Arena

 in Beer Sheva, where -in the heart of the Negev Desert- many high-tech and innovation companies develop their ideas.
Lunch on own in Beer Sheva
Meet members of the community of Black Hebrews

, a spiritual group that began in Chicago and is based on a long tradition in Afro-American culture, which holds that they are descendants of ancient Israelites. Sample a bit of their music culture which ranges from gospel to rap.
Overnight: Selina Desert Garden, Mitzpe Ramon
Tuesday, October 24, 2023
MAKING THE DESERT BLOOM
Mahktesh Ramon (Ramon Crater): various activities including a scenic walk and overview from the Visitors Center, hiking and/or Jeep rides, geological formations.
Proceed to the Jacob Blaustein Institute for Desert Research

in Sde Boker:

Winning the War Against Desertification
Overlook from Ben Gurion's grave

to discuss:

The Dream and the Reality
Intertwined with wine and cheese-tasting

along the Negev

Wine Route "lone farms,"

visit galleries and artisans who take inspiration from the desert landscapes.
Return to the hotel for rest and relaxation
Overnight: Selina Desert Garden, Mitzpeh Ramon
Wednesday, October 25, 2023
RESILIENCE
Breakfast at the hotel and check out.
Explanation on the present security situation

between Israel and Gaza from one of the vantage points overlooking the

Gaza Strip.
Interactive visit to the Animal-Assisted Resilience Center in Sderot, which assists children and teens living with trauma to return to a sense of safety through improving interpersonal connections, encouraging engagement in the community, and regaining areas of functioning that may have been diminished by their trauma.
Lunch with the "Mevashlot,"

a social project in which women host visitors in their homes for a meal of ethnic delicacies accompanied by stories from the community for a rich human, cultural and culinary experience.
Step back in time with an interactive ecological tour

at the

Neot Kedumim,

the Biblical Landscape Reserve, a living museum of Israel's "green archeology" illustrating Jewish heritage tied to the Land and the People of Israel, with special emphasis on water issues and creative solutions, both ancient and modern, including an opportunity to draw water from a 2000-year-old cistern.
Farewell dinner at Neot Kedumim
Depart for Ben Gurion International Airport

for return flight home.
Overnight: In flight
Thursday, October 26, 2023
Arrival to the United States
Overnight: --
*Program is subject to change, pending confirmations.
Price based on 15 full-paying participants. 
Price does not include flights.
HOTELS:
2 nights, Fabric Hotel, Tel Aviv
5 nights, Batsheva Hotel, Jerusalem
2 nights, Selina Desert Garden, Mitzpe Ramon
LAND PRICE INCLUDES:
Assistance upon arrival and departure at Ben Gurion Airport for one group flight
One group transfer from and one group transfer to Ben Gurion Airport
Licensed Israeli Government Tour Educator and trained by Makor – 10 days
All group Transportation in Israel on a private luxury bus – 9 days
Hotel Accommodations per above ** or similar, pending confirmation
All Site Admissions and programs as per the itinerary
Meals

Breakfast daily
Wine and Cheese Tasting Activity
2 Lunches
6 Dinners

Source Materials, Hat, Bag, Map
Water on bus daily
Porterage at hotels
Credit card fees
Tips for guide and driver
NOT INCLUDED:
Flights
Meals on own and out-of-pocket expenses
Travel and Medical Insurance
Potential costs stemming from Covid-19-related regulations at the time of travel (ex. PCR or serological tests).
potential additional speakers
PAYMENT AND REFUND SCHEDULE
Payment Schedule:
Upon Registration — $500 Deposit per participant
July 15, 2023 — 50% of Total Payment
September 15, 2023 — Full Payment
Refund Schedule:
Cancel before July 15, 2023 — Full Refund
Cancel between July 15, 2023 and September 15, 2023 — 75% Refund
Cancel between September 15, 2023 and October 1, 2023 — 50% Refund
Cancel after October 1, 2023 — No Refund
–>Cancellations due to the Covid-19 epidemic will be fully refundable, except for a $150 per person processing fee.
FOR MORE INFORMATION
Rabbi Jonah Layman, rjlayman@shaaretefila.org
Rabbi Misha Zinkow misha@makorjourneys.com; 833-GoMakor (Eastern Time Zone)
TRAVEL INSURANCE INFORMATION
We urge you to purchase cancellation insurance & supplemental medical coverage (which covers pre-existing conditions). This is a smart way to safeguard against life's surprises.
We have made arrangements with SMS-Travel Insurance Center (Israel) of Omaha, Nebraska. SMS has over 25 years of experience as worldwide insurance brokers and can help you choose the policy that best meets your needs. Yonah Engel is our contact person.
Please note:
most insurance policies require purchase within 21 days of your first payment in order to receive maximum coverage (pre-existing conditions, bankruptcy insurance, etc).
even if you do not yet know the final trip cost (e.g. flights), write down the amount you do know – and then at a later date, the insurance premium can be amended.
trip dates are for the entire period away from home
trip costs are all pre-paid expenses (e.g. airfare + land costs)
Email: yonah@travelinsuranceisrael.com
Phone number: 1-402-404-5205
Mention promo code: IGT-MAKOR
There is no "group flight" for this journey. You are invited to purchase tickets through a travel agent or on the Internet. The round-trip itinerary below is recommended by Rabbi Layman. Please note arrival time in Tel Aviv, in case you choose another carrier. The group will board our bus together after bags are claimed. If you arrive more than an hour after the El Al flight below, you will be responsible for your own transportation to meet the group in Tel Aviv. The group will be taken by Makor to Ben Gurion Airport together at the conclusion of the trip.
Washington (DCA) to Tel Aviv (TLV), October 15
Tel Aviv (TLV) to Washington (DCA), October 26
DCA-TLV
October 15:

Jet Blue B6 2488, departs DCA at 1:40 PM, arrives JFK at 2:56 PM.  Connect to El Al  LY 2, departs JFK at 5:30 PM, arrives Tel Aviv (TLV) next day (October 16) at 11:00 AM
NOTE THAT THESE FLIGHTS LEAVE AFTER MIDNIGHT of October 25, so they are dated OCTOBER 26
Option 1 (El Al / American)
LY 1, departs TLV at 1:00 AM, arrives JFK at 5:50 AM (on same day – October 26); connect to AA 4538, departs JFK at 9:50 AM, arrives DCA at 11:06 AM

Option 2A (El Al / American)
LY 15, departs TLV at 1:05 AM, arrives BOS at 5:45 AM (on same day – October 26); connect to AA 2122, departs BOS at 7:30 AM*, arrives DCA at 9:14 AM
*–>Note layover is only 1 hr 45 min
Option 2B (El Al / American)
LY 15, departs TLV at 1:05 AM, arrives BOS at 5:45 AM (on same day – October 26); connect to AA 2153, departs BOS at 9:30 AM, arrives DCA at 11:14 AM
Tel Aviv (TLV) to Washington (DCA), October 26
NOTE THAT THESE FLIGHTS LEAVE AFTER MIDNIGHT of October 25, so they are dated OCTOBER 26
Option 1 (El Al / American)
LY 1, departs TLV at 1:00 AM, arrives JFK at 5:50 AM (on same day – October 26); connect to AA 4538, departs JFK at 9:50 AM, arrives DCA at 11:06 AM

Option 2A (El Al / American)
LY 15, departs TLV at 1:05 AM, arrives BOS at 5:45 AM (on same day – October 26); connect to AA 2122, departs BOS at 7:30 AM*, arrives DCA at 9:14 AM
*–>Note layover is only 1 hr 45 min
Option 2B (El Al / American)
LY 15, departs TLV at 1:05 AM, arrives BOS at 5:45 AM (on same day – October 26); connect to AA 2153, departs BOS at 9:30 AM, arrives DCA at 11:14 AM